June, 27 2018
TOD Treks the Ocean State: More in Middletown
TOD's Top Six Picks in Middletown RI
1) Newport Vineyards: 909 East Main Rd. (Rte. 138), Middletown
Newport Vineyards, New England's largest grower of wine grapes, takes visitors on a winemaking journey from grape to glass. Tour the vineyards (weather permitting) and learn why Aquidneck Island and Narragansett Bay create the perfect growing environment. Enjoy a glass (or two) in the Tasting Room, lunch at the Vineyard Café or dinner at Brix Restaurant. Newport Vineyards hosts a Farmer's Market every Saturday from 9-1, and live music each weekend from May – September.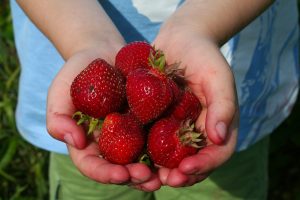 2) Sweet Berry Farm: 915 Mitchell's Lane
Stop by Sweet Berry Farm for the area's freshest seasonal fruits, vegetables, flowers and specialty foods. Open April through December, the pick-your-own season begins in June with farm fresh strawberries and continues through December with holiday wreaths and trees. Enjoy breakfast or lunch at the Farm Café, or a scoop of their award winning ice cream. The farm hosts many weddings and corporate events in both their orchard and post-and-beam barn, and offers free live music and family-friendly fun every Tuesday evening in July and August.
3) Whitehall Museum House: 311 Berkeley Avenue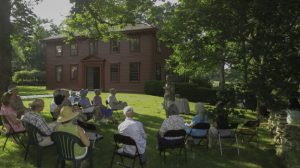 This seventeenth century farm was once the home of early modern philosopher George Berkeley. During his time at Whitehall, visitors often knocked on his door seeking wisdom and counsel. Whitehall continues honoring Berkeley's memory through their Scholars in Residence program, inviting modern Philosophy scholars to spend the summer at Whitehall. The house is open to the public from June 25 through August 31, Tues-Sun, 10-4.
4) Becky's Real BBQ: 82 East Main Road
Once you've had your fill of chowder and lobster rolls, head over to Becky's Real BBQ and tuck into a heaping plate of ribs, chicken and pulled pork. Becky's has been serving good old fashioned, home-cooked Southern barbecue to New Englanders since 1998. Under the watchful eye of pit master and owner Bob Bringhurst, each piece of meat is slowly cooked over hickory wood, resulting in juicy, uniquely flavored barbecue. Dine in for lunch or bring home a meal for dinner.
5) Norman Bird Sanctuary: 583 Third Beach Road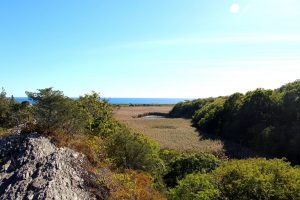 With more than 325 acres of diverse habitats, the Norman Bird Sanctuary provides birders, hikers and outdoor enthusiasts with a peaceful place to reconnect with nature. Begin your visit by checking in at the welcome center, then choose from a dozen diverse trails. Birders can visit the sanctuary's Ebird page to view recent sightings. Bring comfortable walking shoes and a pair of binoculars to enjoy some of the best bird spotting in the state.
6) Newport Equestrian: 287 Third Beach Road, Middletown
Picture a sunny day, blue skies, a warm breeze and the sound of the surf as you enjoy all that Middletown has to offer from the saddle of your own trail horse. Newport Equestrian offers visitors several beach trail rides. The two-hour tour rides to Second Beach and overlooks St. George's Castle, a lovely Gothic castle reminiscent of the green hills of Ireland.
DOWNLOAD A TRAIL MAP BELOW